For many, acting on Broadway is a fleeting dream. However, for CCSU Filmmaker, Emily Santarsiero, the goal has become a lesson in adaptation, empowerment and tenacity. Santarsiero began Digital Film Production, (Comm 228) at Central Connecticut State University in 2014. Previously, she received her BFA in Theatre from Marymount Manhattan College and was on her way to becoming a NY Actor. For personal reasons, after graduation she returned home to Connecticut, but dreams don't just die…they take different paths.
Santarsiero's work in Film class began with sporadic efforts in content exploration. She worked with the camera in non-committed ways and after talking about what she wanted to produce for quite some time, things began to change.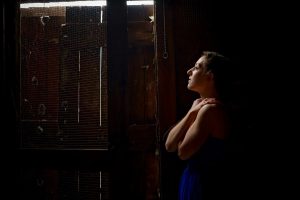 Emily started to bravely apply the camera to her own life. At that time, she worked as a tea barista in West Hartford, Connecticut, but her desires to act on Broadway couldn't be further from reach.
With passion in tow, Emily began to use the camera as a powerful tool for story-telling. She filmed comprehensively, explored her life and started an empowering quest to become a crafted theatrical performer. With her parents just rooms away, through filmmaking within her very own bedroom, no longer did Emily need to be cast and told what to act, as well as and how to act in it. Instead, she is now re-learning the craft of acting, risking and becoming the artist she trained to be. Only this time, she's turning it into an original series.

I am pleased to present the official trailer and campaign for MY GRITTY DREAM.

Posted by Jeffrey Teitler – Associate Professor – Filmmaking – Central Connecticut State University